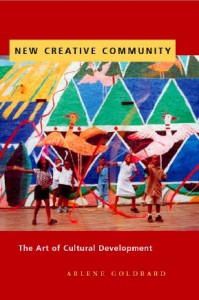 An inspiring, foundational book that defines the burgeoning field of community cultural development. Through personal stories, rousing accounts, detailed observation and histories, Arlene Goldbard describes how communities express and develop themselves via the creative arts. This comprehensive, photographically- illustrated book, which covers community-based arts such as theater grounded in oral history and murals celebrating cultural heritage, will appeal to the curious non-specialist reader as well as the practitioner and student.
Arlene Goldbard is one of the best-known authors on community cultural development. Her seminal books and essays are widely read in the U.S. and other English-speaking countries — among them, Community, Culture and Globalization and this book's antecedent, Creative Community.

Publication Information
New Creative Community: The Art of Cultural Development
Publication Date: October 2006
ISBN 0-9766054-5-7
$19.95/Trade Paperback/272 pages
Buy New Creative Community from New Village Press
Click here to download discount pricing for schools and nonprofits on orders of 5 or more copies.
Praise for New Creative Community:
"Arlene Goldbard's most recent book, New Creative Community: The Art of Cultural Development, is a comprehensive, well-written, and passionate chronicle of this overlooked sector of the art world. Magisterial in her research and uplifting in her storytelling, Goldbard gives us a close look at where these feisty organizations have come from, what they have accomplished, and all the places they are now headed."
Jay Walljasper,
Public Art Review
"Arlene Goldbard is one of those writers who not only writes about culture—she lives culture. She manages both to persuade us about her research but also convince us about the importance of community cultural development, which is why her latest book should be read not only by those interested in community cultural development but moreover by those who still need to learn and understand why is it so important."
Nina Obuljen,
C-News, the Culturelink Network

"A powerful description of how community-driven art can transform and improve American society. We believe that the arts are important in bringing us together across our differences and New Creative Community explains how and why. Important eye-opening reading for funders, civic leaders, artists and social entrepreneurs."
Thomas Sander,
Executive Director at The Saguaro Seminar:
Civic Engagement in America Project, Harvard University

"Goldbard has written a book that is vast without being superficial. Her incisive understanding of how politics, history, and culture interact and her deep appreciation of what community-minded artists contribute to society (tempered by her savvy about obstacles placed in the way) combine to produce an utterly readable book with great heart, mind, and spirit. Dazzling."
Jan Cohen-Cruz,
Associate Professor of Drama at
New York University's Tisch School of the Arts
author of Local Acts: Community-Based Performance in the United States

"My hat's off to Arlene Goldbard for mapping the territory where art and democracy meet. She connects the practices, principles, theory and history of community cultural development and makes a powerful case that it is the most significant work in the arts today. No one has done this before. New Creative Community is an important book with the legs to last a long time."
Nick Rabkin,
Executive Director, The Center for Arts Policy, Columbia College Chicago

"Arlene Goldbard's book is an inspirational breakthrough for community cultural development, starting with the term she chooses to describe the field itself. Bursting with useful examples from across the United States and beyond, Goldbard takes the reader through the work's historical, practical, political, aesthetic and moral dimensions. This brilliant book gave me insights and, especially, hope for the future of the arts in this country."
Bill Rauch,
Founding Artistic Director, Cornerstone Theater Company, Claire Trevor Professor of Drama, University of California, Irvine, and Artistic Director, Oregon Shakespeare Festival
Read an excerpt from New Creative Community in In Motion Magazine
Click here to the download the Table of contents
Click here to read a conversation on New Creative Community from Grantmakers in the Arts' GIA Reader
To listen to or download a podcast interview with Arlene on New Creative Community for The Bat Segundo Show, click here and select interview #107.
Other Books by Arlene Goldbard