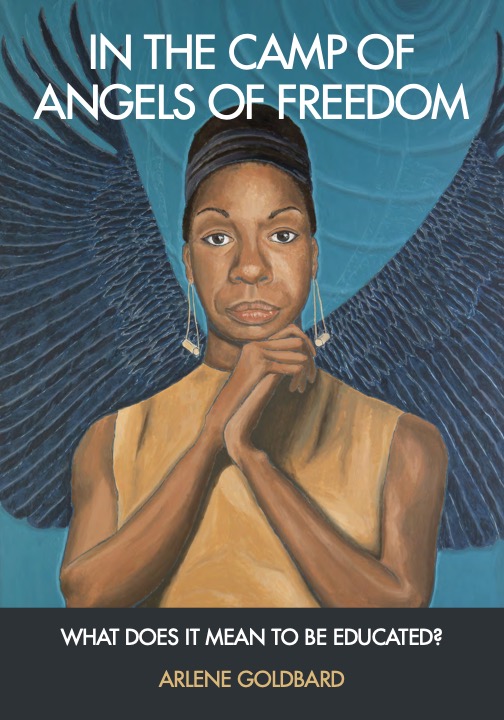 I now know what it means to be educated in Arlene Goldbard's Camp of the Angels of Freedom. It is a story circle of gentle radical thinking that celebrates clear sight and truth-based compassion. I discovered more of my own story in its embrace, and my courage grew on every page. This book inspires and empowers with the forthrightness of the telling and the beauty of the stories told. Arlene is a master artist in the medium of the possible.

Eric Booth, Founder, International Teaching Artist Collaborative, author of Tending The Perennials: The Art and Spirit of a Personal Religion and six other books
Click here to read about In The Camp of Angels of Freedom.
Click here to read about The Culture of Possibility: Art, Artists and The Future and The Wave.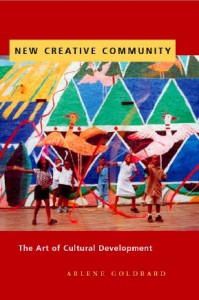 Click here to read about New Creative Community: The Art of Cultural Development.
"A powerful description of how community-driven art can transform and improve American society. We believe that the arts are important in bringing us together across our differences and New Creative Community explains how and why. Important eye-opening reading for funders, civic leaders, artists and social entrepreneurs."
Thomas Sander,
Executive Director at The Saguaro Seminar:
Civic Engagement in America Project, Harvard University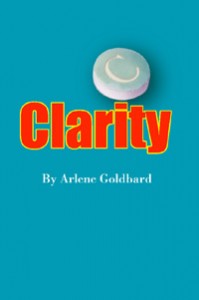 Click here to read about Clarity, the novel that explores what would happen if America really did take a wake-up call.
---
Two non-fiction books on how artists help make social change.
Creative Community: The Art of Cultural Development

Creative Community: The Art of Cultural Development was commissioned from Arlene Goldbard and Don Adams by the Rockefeller Foundation in 2001. The book traces the history, methods, values and theories of community cultural development practice as a response to destructive social forces, defining "community arts," "community animation" and other key concepts, then looking at cultural responses to social conditions, global proliferation of mass media, mass migrations, recognition of cultural minorities and the effects of globalization.
New Creative Community contains all of the same information and much, much more. But if you want a text-only edition of the original volume, it is available at lulu.com or Amazon.com.
Community, Culture and Globalization


Community, Culture and Globalization was edited by Don Adams and Arlene Goldbard and published by The Rockefeller Foundation in 2002. This anthology features essays on community cultural development theory and practice from twenty-two authors based in fifteen different nations, representing a wide range of disciplines, backgrounds and outlooks, yet united in using their creative talents to educate, mobilize and empower their communities to withstand the homogenizing forces of globalization.
Community, Culture and Globalization is widely used as a text in training community artists. Click below to download chapter PDFs:
Chapter 1 "Community, Culture and Globalization" by Don Adams and Arlene Goldbard
Chapter 2 "Huehuepohualli: Counting the Ancestors' Heartbeat" by Martha Ramirez Oropeza
Chapter 3 "Art and Community: Feeding the Artist, Feeding the Art" by Liz Lerman
Chapter 4 "Small Media, Big Potential!" by Nitin Paranjape
Chapter 5 "Oral History: Art and Praxis" by Mary Marshall Clark
Chapter 6 "Birth of a Movement" by Judith F. Baca
Chapter 7 "Cultural Entrepreneurship: From Cosmology to Market" by Munira Sen
Chapter 8 "Let's Get Digital: Using Multimedia and the Internet in Community Cultural Development" by Tony Stanley
Chapter 9 "Digital Diaspora: Young People, Technology and Contested Spaces" by Gary Stewart
Chapter 10 "Full Faith and Credit" by Dee Davis
Chapter 11. "Protest or Participate? Community Cultural Development and Globalization in Australia" by Sarah Moynihan and Norm Horton
Chapter 12 "Community Cultural Development, Cultural Policy Networks and Culturelink" by Nina Obuljen
Chapter 13
"Theater of the Oppressed and Community Cultural Development" by Barbara Santos
Chapter 14 "The Challenge of Global Perspectives on Community Theater in Malawi and Botswana" by David Kerr
Chapter 15 "Culture as the Basis for Development" by Masitha Hoane
Chapter 16 "Real Social Ties? The Ins and Outs of Making Theater in Prisons" by Paul Heritage
Chapter 17 "Sweet Honey Kill Fly: Vietnamese Youth Media" by Tony Le Nguyen
Chapter 18 "Different Art Forms, Mutual Concerns" by Iman Aoun
Chapter 19 "Imagined Communities: PETA's Community, Culture and Development Experience" by Maribel Legarda
Chapter 20 "Theater, Migrant Workers and Globalization: The Hong Kong Experience" by Mok Chiu Yu
Afterword "Afterword: Creativity Under Pressure" by Don Adams and Arlene Goldbard